Virtual Graffiti Wins Cisco's Partner Plus Winner's Circle for 2017
Irvine, CA, November 2017 - Virtual Graffiti Inc., one of the fastest growing IT solutions providers for business, government and education based in Irvine, California continues to succeed with their strategic partners.
At a Cisco Partner event held in Cabo San Lucas, Mexico between 16 - 20 October 2017, Virtual Graffiti, one of Cisco's fastest growing partners in the Commercial segment, was recognized into the Cisco Partner Plus Winner's Circle for 2017 in recognition of their Product Sales Excellence in North America.
As a renowned technology leader, Cisco provides quality products ranging from security to communication, helping people connect, collaborate and succeed in a growing digital world. By creating long-lasting partnerships with companies such as Cisco, Virtual Graffiti continues to strive in providing its customers with the best technological solutions.
"We are delighted that Cisco has recognized our success and growth this year" says Misty Frederic, Director of Inside Sales at Virtual Graffiti. "I would like to pay tribute to the team that we have at Virtual Graffiti, it's the individuals that we have on the team that are key to our success. Being recognized at the Partner Event in Cabo was very motivating".
Virtual Graffiti resells the full line of Cisco products, as well as Meraki their wireless brand, providing buyers firewall, email, corporate web security solutions and more.
About Virtual Graffiti
Virtual Graffiti Inc is an online reseller of a wide range of technology solutions including security, computing, storage, backup and cloud. We have over 140,000 loyal customers in the business, government and education sectors. Discover more at www.virtualgraffiti.com.
About Cisco
Cisco (NASDAQ: CSCO) is the worldwide technology leader that has been making the Internet work since 1984. Our people, products, and partners help society securely connect and seize tomorrow's digital opportunity today. Discover more at newsroom.cisco.com and follow us on Twitter at @Cisco.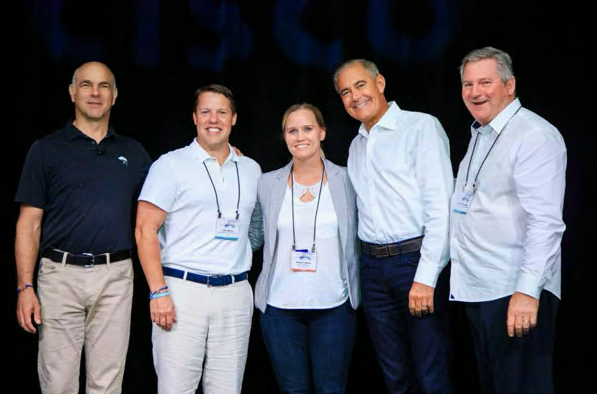 Left to Right.
Andrew Sage, (Cisco VP of Worldwide Partner Sales), John Moses (Cisco VP, US Partner Organization), Misty Frederic, (Virtual Graffiti, Director of Inside Sales), Rick Snyder (Cisco, Senior VP Of Americas Partner Organization), Kerry McDonough (Cisco, Director of Operations Sales – Global/Commercial)