Virtual Graffiti Management gets a tour of Kaspersky technology in action in the Ferrari garage at the 2014 Italian Grand Prix in Monza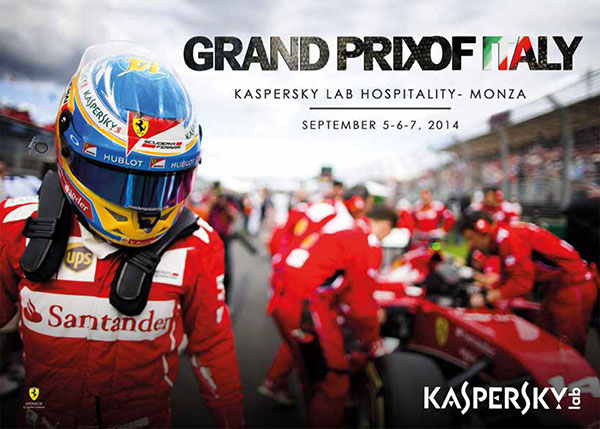 During the weekend of September 6-7, 2014, Virtual Graffiti, a reseller partner of Kaspersky Lab in the North-American market, was given the opportunity of a lifetime: A visit to the high plains of Lombardy, on the outskirts of Milan, Italy - to the city of Monza, on the occasion of the 2014 Italian Grand Prix - as the special guests of Kaspersky Lab.
Hillel Sackstein, Virtual Graffiti's founder and president, was joined by his brother Howard Sackstein, VP of Marketing for the company, for an event he described as "an unbelievable, 'bucket-list' experience."
Kaspersky Lab, a world leader in information-technology security, is no stranger to motor racing. In 2010, Kaspersky became an "Official Sponsor" to Scuderia Ferrari, the racing-team division of Ferrari and the oldest active team in Grand Prix racing. Ferrari as a brand has become synonymous with innovation, cutting-edge technology and exclusivity-assets that require the most stringent of protection. Scuderia Ferrari's security needs are equally integral to its success on the track. Thus, 2013 brought a new level of partnership between the two companies: Ferrari became a customer of Kaspersky Lab, enlisting the IT protection specialists to provide them with total endpoint security.
As guests of Kaspersky, the Sackstein brothers got to meet with Ferrari drivers and engineers and got an exclusive look at how Kaspersky technology was being used to safeguard Ferrari's data in an exceedingly demanding environment that places a premium on the highest level of competitive performance.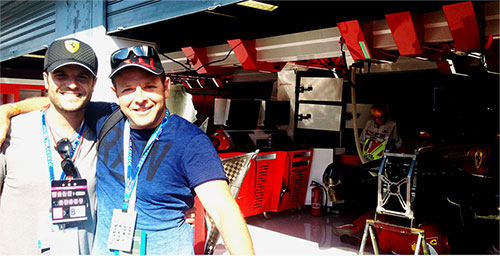 "Both Kaspersky and Ferrari are, in their respective fields, motivated by similar impulses," said Sackstein. "They're both driven to innovate, to outpace the competition, whether the arena is concrete or digital."
Added Sackstein: "As an avid and longtime Formula One fan, to actually tour the pits complex of the almost-100-year-old Autodromo Nazionale Monza, stand where so many legendary drivers and teams have raced, to witness the synergy between Kaspersky and Ferrari, both on and off the track, was a unique privilege, and something I won't soon forget. I want to thank the entire Kaspersky team for making it possible."
To watch Kaspersky Lab's case study on its technical partnership with Ferrari, click here. You may also learn more about Kaspersky Lab products by visiting AVDefender.com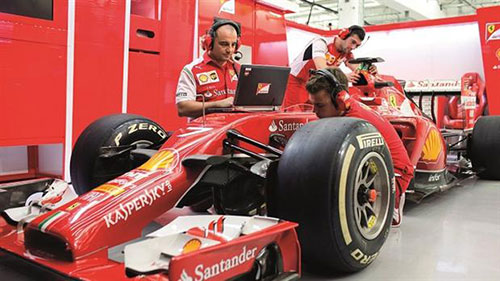 About Kaspersky Lab
Kaspersky Lab is the world's largest privately held vendor of endpoint protection solutions. The company is ranked among the world's top four vendors of security solutions for endpoint users. Throughout its more than 17-year history Kaspersky Lab has remained an innovator in IT security and provides effective digital security solutions for large enterprises, SMBs and consumers. Kaspersky Lab, with its holding company registered in the United Kingdom, currently operates in almost 200 countries and territories across the globe, providing protection for over 300 million users worldwide.
About Virtual Graffiti
Virtual Graffiti is a leading IT solutions provider specializing in business, government and education. Recognized as one of the fastest growing IT solution providers in the nation by Inc. Magazine, CRN and the VAR500, Virtual Graffiti has more than 80,000 customers worldwide and has sustained an annual growth rate of 27 percent over the past five years. The company's highly trained and award-winning product teams help customers make smart IT buying decisions while lowering IT budget costs and improving efficiency. For more information, please visit www.virtualgraffiti.com.