Virtual Graffiti Wins Sophos 2018 USA Channel Partner of the Year Award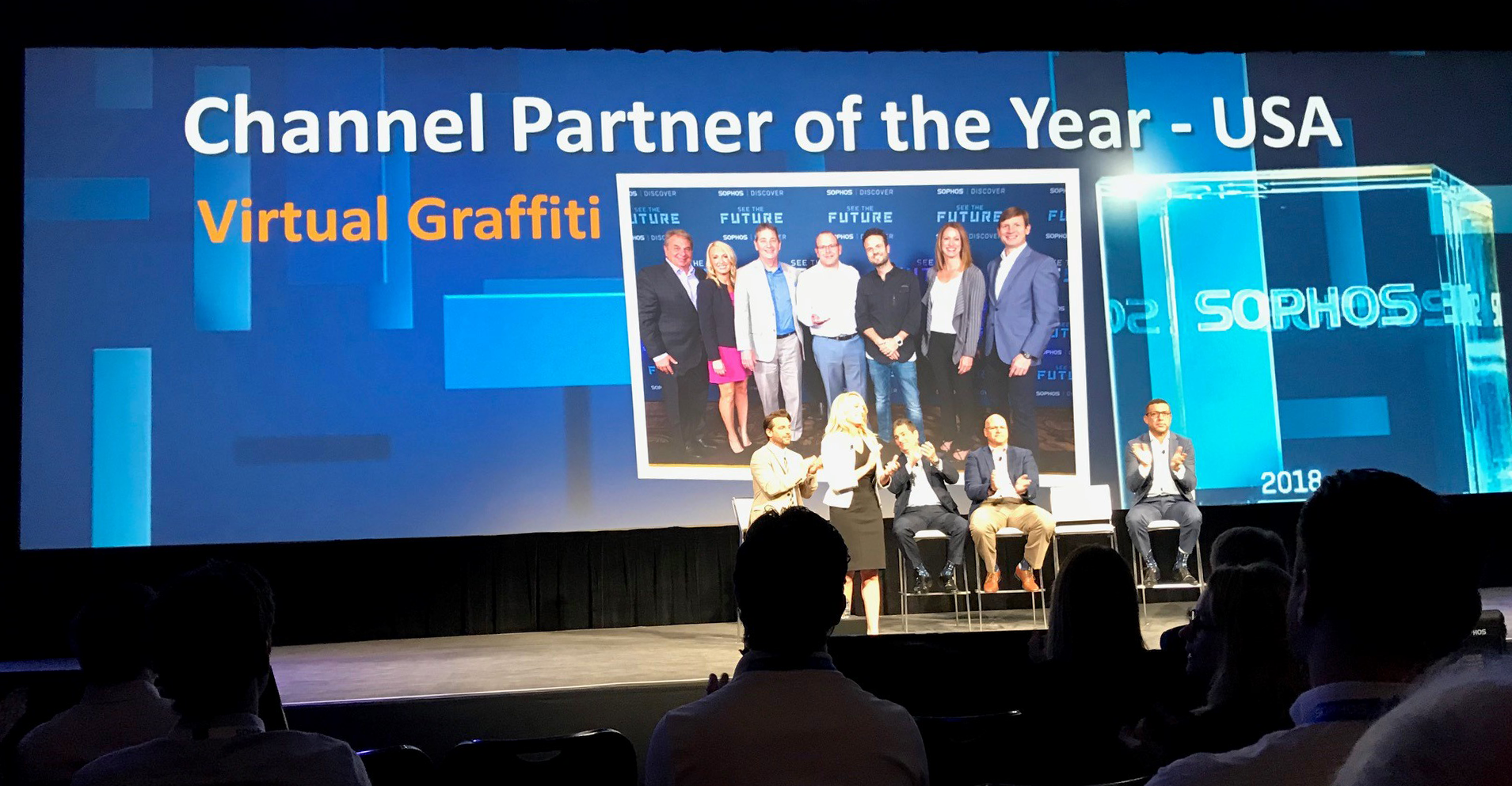 Irvine, CA, May 2018 - Virtual Graffiti has been given the 2018 Channel Partner of the Year Award presented by Sophos. This award recognizes the amazing results and Sophos expertise demonstrated by Virtual Graffiti representatives, who have committed to offering customers award-winning, next-generation network and endpoint protection.
On May 23, 2018 at this year's 2018 Sophos Partner Conference held at The Cosmopolitan Hotel in Las Vegas, Virtual Graffiti was honored with fellow Sophos Award winners in recognition of their excellent product sales. It was a great occasion celebrating a tremendous year of success and growing partnerships, as well as a celebration recognizing the value and benefits of proactively engaging with Sophos partners to continually meet customer needs and expectations.
As a renowned leader in the industry, Sophos provides a full range of powerful security products and solutions that that are easy to deploy, require minimal management, and are easy to use for any and all businesses. In creating long-lasting partnerships with companies such as Sophos, Virtual Graffiti continues to strive in providing its customers with strong product knowledge and reliable technological solutions to help them build a comprehensive security strategy for their organizations. Virtual Graffiti looks forward to another great year with Sophos.
Virtual Graffiti resells a full line of Sophos products, providing buyers firewall, email, corporate web security solutions and more on their dedicated partner site EnterpriseAV.com.
About Virtual Graffiti
Virtual Graffiti Inc is an online reseller of a wide range of technology solutions including security, computing, storage, backup and cloud. We have over 140,000 loyal customers in the business, government and education sectors. Discover more at
www.virtualgraffiti.com
.
About Sophos
Trusted by 100 million users and endorsed by industry analysts as a leader, Sophos provides a full range of endpoint, encryption, email, web and NAC solutions that are simple to deploy, manage and use. Sophos's powerful solutions deploy easily, require minimal management and are simple to use. And all Sophos customers benefit from SophosLabs, the core of their expertise, which has the fastest response in the industry to emerging threats.
Go back to previous posts