New Linksys Managed Gigabit PoE+ Switches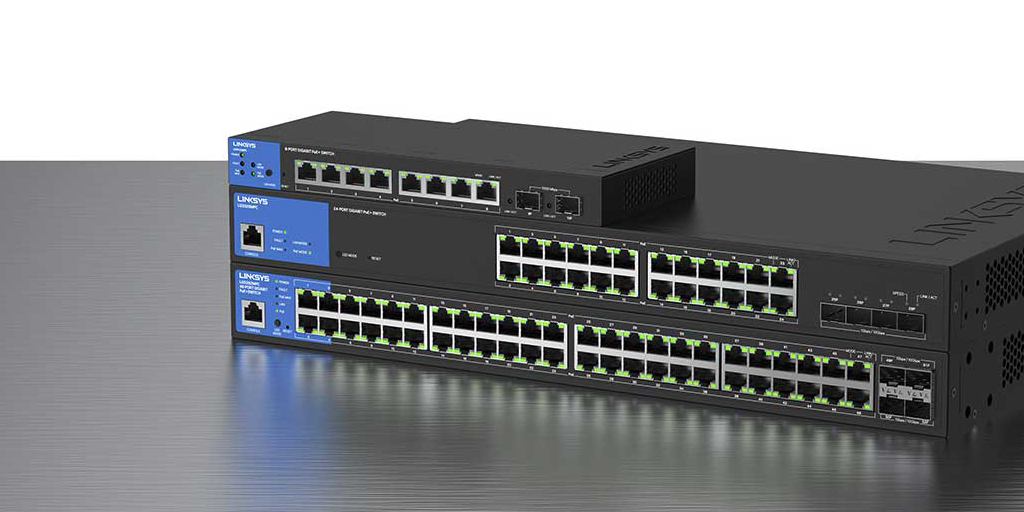 New Linksys Managed Switches Just added to our website.
Designed for business-class management, security, speed, and quality of service with 24 Gigabit Ethernet PoE+ ports, 4 10G SFP+ uplinks and 410W of total PoE power budget.
Integrated Power over Ethernet Plus (PoE+)
Dedicated SFP or SFP+ Uplink Ports
Advanced Network Security and QoS
Static Routing and IPv6 support
Ideal for surveillance cameras, access control, ProAV, projectors, access points, VoIP phones, and other demanding applications.
TAA Compliant
---
Advanced Security and QoS with Managed Switches
As your business needs change, Linksys Managed Switches provide a secure, scalable foundation for an expanding professional network.
Linksys managed switches support the latest 802.3at (PoE+) standards and provide up to double the power budget per Gigabit Ethernet port while offering 802.3af (PoE) backwardcompatibility. Power over Ethernet reduces electrical wiring costs, simplifies installation, and supports network devices such as IP cameras and wireless access points in optimal indoor and outdoor locations.
Multiple high-bandwidth trunks between switches enhance availability and redundancy. Spanning Tree Protocol (STP) and Storm Control features help control planned or inadvertent cable loops, so you can confidently build a mesh of switches and quickly expand your network to support your growing workforce.
Unauthorized access to the network and mission-critical data is a constant concern. Linksys managed switches help secure networks through port authentication, requiring clients to authenticate themselves before any data is passed. Advanced DHCP snooping and IP-MAC binding functions ensure network integrity and help prevent network attacks.
Numerous QoS features ensure that traffic is prioritized properly to deliver the best possible user experience for real-time applications like voice and video along with bandwidth-intensive graphic/video file uploads and downloads. IGMP snooping limits IP multicast traffic to the ports that requested it, enabling the rest of the network to operate at peak efficiency.
Get in touch with a Linksys Solutions Specialist today to Learn More!
Go back to previous posts